Tour the Towpath:September 23-24, 2017
Tour the Towpath is a two day recreational supported bike ride along the world famous Erie Canal!  Tour the Towpath 2017 begins in Rome, NY and follows the Old Erie Canal Towpath trail for 36 miles to DeWitt, NY with an option to bike to the Inner Harbor in Syracuse (additional 10 miles).  There are lots of organized and spontaneous things to discover along the way!   Tour the Towpath is a family friendly event and open to cyclists of all abilities. Riders will receive a map and guide to the many attractions, museums, restaurants, shops, and historic sites that they can explore in the communities that the route encounters on the way from Rome to Syracuse.  All participants end at the World Canal Conference Kick-off Celebration at the Inner Harbor in Syracuse.
Accommodations and Options: 2-day riders will overnight in the canal-side village of Canastota on Saturday (September 23) where live music, showers, restaurants and attractions will be available. Overnight riders may choose to either camp free of charge at a designated campsite, or purchase a room from a hotel in the village.  Tour the Towpath also offers a 1 day ride option for those looking for a shorter experience: 1 day riders will join 2 days riders Sunday morning (September 24) in Canastota and all participants will continue the route together.
Luggage transportation will be available between Rome, Canastota, DeWitt, and Syracuse. Event staff will assist riders who have technical difficulties- bike related or otherwise. No one will be left behind.
Registration:
Registration for Tour the Towpath will open Spring 2017.  For more information go to www.TourtheTowpath.com or the Facebook page for the Old Erie Canal at https://www.facebook.com/OldErieCanal/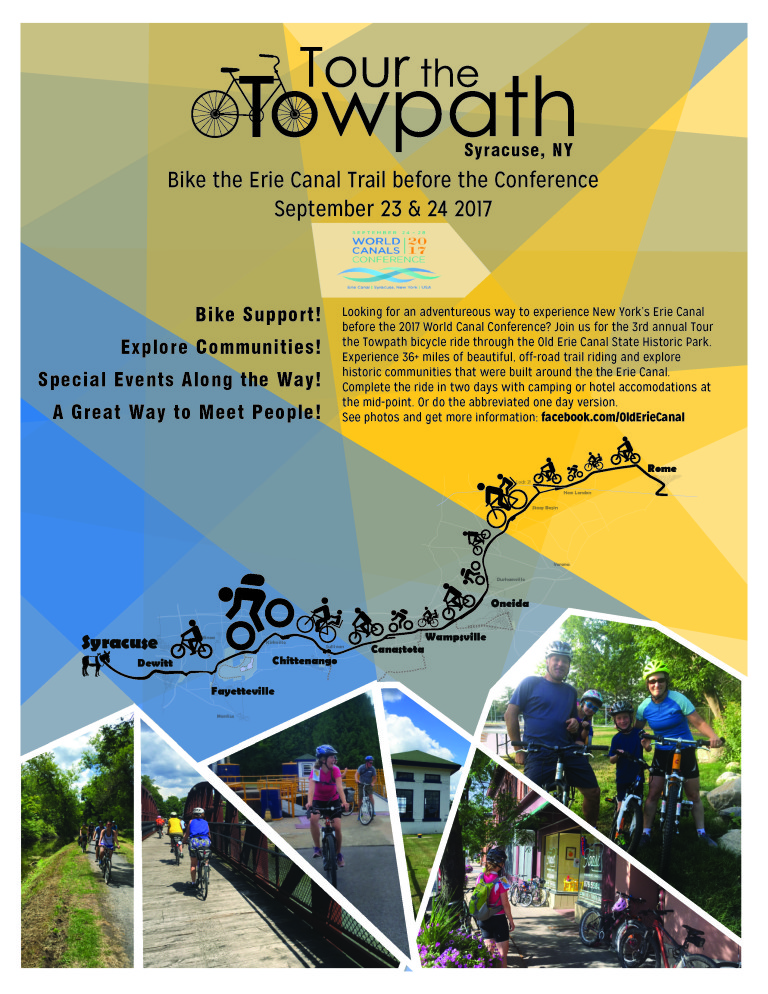 Tuesdays on the Towpath 2017
Tuesdays on the Towpath is an annual bike ride series around the Erie Canalway Trail in Central New York. The Oneida Rail Trail will host the September 12th ride!